Origami Guides: A 3 Day New Orleans Itinerary (with Local Recommendations)
Jennie here.
In early May, Ivan and I spent a fantastic long weekend attending the New Orleans Jazz & Heritage Festival. In just a few short days of hanging out in The Big Easy, this city has catapulted onto our top 3 favorite cities in the U.S. - right after Boston and Philadelphia. The city's slow pace, melting pot of culture, food, and history makes it the ideal hub for us. In another lifetime, I could definitely see us living here.
During this trip, we made a point of pestering every local we met to give us their favorite places to eat, drink, and relax in New Orleans, and we followed their advice to compile this three day itinerary.
Basically, we've asked all the questions - so you won't have to!
Who should use this itinerary?
Solo travelers/couples on a budget who prefer to stay off Bourbon Street in favor of more "off the beaten" path hangouts.
What are the best times to visit NOLA (New Orleans)?
Before June. Our rule of thumb: go before it gets too hot and humid to enjoy the sights. We went on the first weekend of May for the New Orleans Jazz & Heritage Festival and the weather was just right.
Crawfish boil fans: If you're looking for a good crawfish boil, go before August; crawfish season is typically between early March through mid-June.

Mardi Gras or party junkies: If you want to party and join a few second lines, go during the Mardi Gras season. Be warned though - prices will double or triple for accommodations during this time period. A local Uber driver did mention that Mardi Gras lasts about a full month for locals with all the backyard barbeques and shindigs.
What is the best way to get around NOLA (New Orleans)?
Staying true to who we are - we usually go car-less in any city we visit.
We recommend using NOLA's public transit system. For $3.00, you can get a 24-hour pass to use NOLA's public transit system, which includes 24 hour streetcars and extensive bus routes. Over three days, it'll only cost you $9 a person.
We also found New Orleans to be relatively walkable in the main touristy areas (e.g. Frenchman Street, French Quarters, Magazine Street, etc). However, there are still some "shady" areas you'd want to avoid walking through after dark.
When in doubt, take a Lyft/Uber after sundown.
Where should I stay in NOLA?
I'm only going to recommend what I can stand by - unless you're doing it "for the Gram/IG", I don't think you should pay for more than $70 a night for your stay in New Orleans. Think about it: how much time will you actually spend in your room?
For the budget conscious (up to $60 per night):
Airbnb is a great option. We found a lot of Airbnb options under $60 a day. I would highly recommend staying in the Garden District along Magazine Street. It's an emerging area with a growing arts scene, boutiques, and restaurants.

Hostels. Our friend mentioned that NOLA has a pretty decent hostel scene compared to other Western metropolitan cities. You can check out The Broke Backpacker's recommendations here that will suit your needs.
Thoughts On Bourbon Street
We did the obligatory walk through Bourbon street one evening. Truth is, I could've lived without it. Despite its long history, you'll quickly notice it's just a copy-and-paste job of clubs and sleazy bars that are packed with out-of-towners.
Here's our tip: You can do the obligatory 30 minute stroll through the main street and then walk over to Frenchmen Street where all the interesting jazz clubs, dive bars, street performances, poets for hire, and other shenanigans that are more worth your time.
New Orleans People and Southern Porch Culture
My favorite part of our entire trip was actually getting to meet New Orleanians and transplants. We found New Orleanians to be kind, warm, and unfazed by what others think of them. Our favorite type of people!
Oftentimes, you'll see locals leisurely hanging out on their porches having a smoke or drinking a cold beer or sweet tea. And as we passed some of these beautifully crafted homes (especially in the Lower Garden District), locals would casually say, "Hi, how are you?" or "Where y'at?" (the correct response: "what it is"). Although it seems silly to read into this porch culture, I found myself longing for that sense of community and closeness that it represents.
What we wished we'd done differently before going to New Orleans...
I think my biggest regret was not learning more about New Orleans and its history before I visited. Although I recall some basics from my U.S. history classes, it's one of those cities that continues to carry its traditions.
Here are a few resources I'd suggest before visiting New Orleans:
Book(s):
Radio / Podcasts:
Television:
HBO series Treme (pronounced: tre-MAY) from the series creator of The Wire (available for free on Amazon Prime Video)
The map is divided into three color-coded areas:
Day 1 attractions are in Blue
Day 2 attractions are in Red
Day 3 attractions are in Yellow
The grey markers are for optional sites
For simplicity, we assume you followed our advice and are staying in the Garden District along Magazine Street. All currency listed in USD.
A 3 Day New Orleans Itinerary
(based entirely on local recommendations)
Day 1 (Blue): Arrival in New Orleans, Crawfish Boil, Gumbo, Boozy Bourbon Street, Jazz on Frenchmen Street, and Late Night Gene's Po'Boys
Morning:
Arrive at Louis Armstrong New Orleans International Airport.
Take the short, six minute Uber ride ($5-6) to Harbor Seafood and Oyster Bar for boiled crawfish and raw oysters. We ordered fried alligator as an appetizer, and the boiled special: 3 lbs of boiled crawfish, ½ lb of boiled shrimp, 10 boiled potatoes and corn ($38). If possible, we recommend sitting at the bar to chat with the friendly bartender!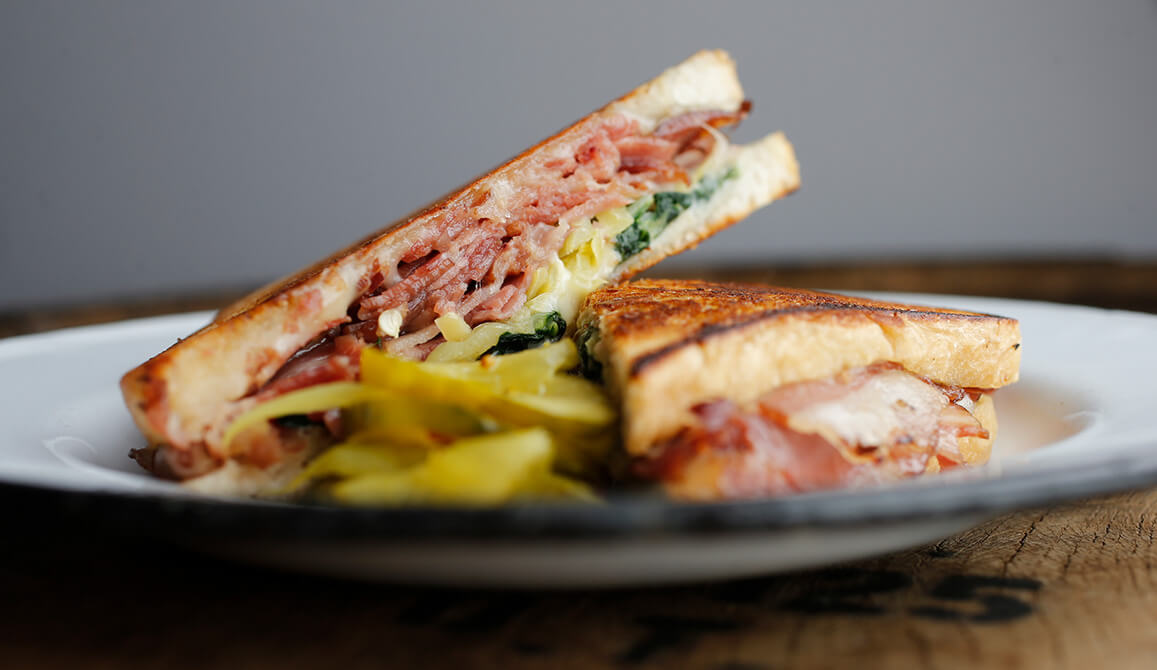 Afternoon
Uber to your Airbnb at the Garden District ($15-17). Drop off your things and head out on foot.

Follow Magazine Street towards the French Quarter, stop by French Truck Coffee ($5) for some cold brew.

Have dinner at Mother's Restaurant ($20-30): Mother's has a combination plate where you can try the gumbo, Jambalaya, and etouffee (our preference). Alternatively, there's the always packed Cochon Butcher, a gourmet sandwich shop where you can get boudin (boo-dan).
Evening
Walk through and past Bourbon Street. Avoid the neon-colored daiquiris made with Everclear and the Hand Grenade cocktail - because you're not 21 anymore and possess a fully developed brain.
Make your way to Frenchman Street. This is where all the great live music, jazz clubs, and dive bars are. In our case, we started at The Spotted Cat for live music, then a few dive bars later, ended up at the Hi Ho Lounge around one in the morning ($25-30).
Cap off the night by splitting a hot sausage po'boy at Gene's Po'Boys ($15, open 24H). Every single local we talked to mentioned Gene's as a great late night spot. Note: Gene's does take credit cards and make sure to ask for their homemade HOT SAUCE. A local highly recommended it to us.
Take the Uber home ($9-10).
 
Daily total (for two) in New Orleans:
$100-150 depending on how many drinks you order.
We stuck to one drink per establishment.
Day 2 (Red): Exploring New Orleans Cemeteries, Streetcars, Mufalettas, Beignets and Coffee at Cafe Du Monde, and Drinking Wine at Bacchanal with New Friends And Jazz
Morning
Afternoon
Evening
Daily total (for two):
$90-120. Again, depends on how much wine you drink.
We ordered a bottle of Beaujolais ($28), shared a cheese and meat plate with some locals ($10-15), and tipped the musicians ($5).
Day 3 (Yellow): Willie Mae's Fried Chicken, Walking Around City Park and Sculpture Gardens, More Gumbo, and Sno-balls for Dessert
Morning
Have a late breakfast at the famous Willie Mae's Scotch House (closed Sundays, $25-30) for fried chicken. In our opinion, totally worth the hype. It is extremely important to get here as soon as it opens at 10AM to avoid standing in a long ass line.

Walk off the fried chicken by making your way through the Bayou St. John neighborhood to City Park.
Afternoon
Evening
Uber out to Pho Michael ($20-25) for a (relatively) light meal before your flight. New Orleans has a sizable Vietnamese population and the bun bo hue here was legit! Alternatively, people rave about the gumbo at Chef Ron's Gumbo Shop, located right next to Sno-La Snowball Lounge, which sells sno-balls stuffed with a cheesecake filling (we're skeptical about this combo). We were too stuffed to try it, but our Uber driver said she goes out of her way to eat there all the time.

Take the Uber to the airport ($15) and fly home 10 pounds heavier.
Daily total (for two): $90-120.
Uber rates vary depending on whether you're traveling on a weekend or weekday.