Can You Plan a Round the World Trip on a Budget? (Part 1 of 2)
How does one plan a year-long round the world trip? How do you even begin?
One thing's for sure, going into this without some sort of budget buys you a one-way ticket down Poverty Lane en route to Regrets-ville.
You heard the man. So let's play a game. Shout-out to The Ringer for the inspiration.
The Rules
Pick 10 countries on a budget of $50
Must circumnavigate the globe at least once
Avoid doubling back
Minimize the number of flights
Maximize the number of continents
The Prices
The following values are based on a combination of cost of living, The Economist's Big Mac index and subjective factors to adjust for traveler prices. For example, Tanzania is an $8 country because climbing Mt. Kilimanjaro is crazy expensive.
It does NOT reflect how much we value each country. With that caveat out of the way, let's play.
$12 countries (Scandinavia)
Switzerland, Iceland, Norway, Finland, Sweden, Denmark, Monaco
$10 countries (Western Europe & Oceania)
Australia, New Zealand, Canada, United States, Italy, United Kingdom, France, Belgium, Luxembourg, Netherlands, Austria, Germany, Ireland, UAE, Kuwait, Qatar, Israel
$8 countries (Asia Pacific, Mediterranean, and Islands)
Japan, South Korea, Hong Kong, Singapore, Spain, Portugal, Pacific and Caribbean Islands, Ghana, Tanzania, Mauritius, Maldives
$6 countries (Eastern Europe and Middle East)
Czech Republic, Slovakia, Hungary, Romania, Poland, Russia, Estonia, Latvia, Lithuania, Balkan countries (Croatia, Serbia, Albania etc), Greece, Bulgaria, Turkey, Jordan, Lebanon, Oman
$5 countries (Industrialized Africa and South America)
Ethiopia, Kenya, Zimbabwe, South Africa, China, Mongolia, Taiwan, Argentina, Brazil, Uruguay, Belize, Chile, Mexico and Central America, Peru, Bolivia, Morocco, Algeria, Egypt
$3 countries (Southeast Asia & Africa)
Thailand, Cambodia, Laos, Malaysia, Vietnam, Philippines, Indonesia, Myanmar, India, Nepal, Sri Lanka
$2 countries
Rest of the World
Ivan's Round the World Itinerary
Depart from: Los Angeles, California (September 2018)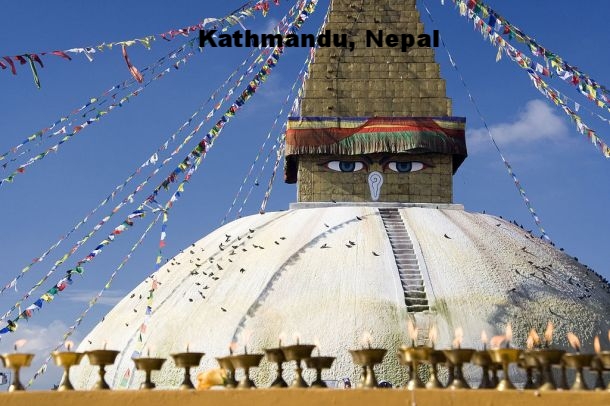 Czech Republic ($6)
Train journey across Eastern Europe. It's probably smart to ease into the trip to get ourselves acclimated to traveling. Don't want to get sick on our first month.

Greece ($6)
This was Turkey originally until the recent Istanbul bombings and the attempted coup. Might be fun to run a marathon here.

Ethiopia ($5)
Ethiopia is the second most populous African nation after Nigeria, which was my original pick until Boko Haram (aka those asshats) showed up and ruined everything. It's also the only African country that has never been colonized, which is pretty cool.

Tanzania ($8)
Jennie, we're going to turn thirty by 2018 - not getting any younger. This is our time to climbing Mt. Kilimanjaro, the highest peak in Africa. Only downside here is that it's probably way more expensive than we think.

Sri Lanka ($3)
I'm super fascinated by the Buddhist majority on this island.

India ($3)
Another epic northbound train journey.

Nepal ($3)
I've heard the Nepalese are some of the most amazing and resilient people despite poverty and the recent earthquake that devastated their country. I want to find out what their secret is.

Interior China ($5)
Everyone goes to Bejing and Shanghai, but Sichuan and Yunnan are super underrated provinces. I'd also like to see Tibet if the Chinese government would stop being total dicks about it (forcing you to take guided tours, imposing large deposits to ensure you're on your best behavior).

Vietnam ($3)
Jennie, it's your people. And pho. Would be interested in traveling from North to South.

Japan ($8)
There's something poetic about ending the trip in the city where we first met.
Total: $50, 6 Flights, 4 Continents
Jennie's Feedback
I'd like to put it out there that I have NOT officially agreed to climb Mount Kilimanjaro (Ivan: booooo). That's going to be toss up at this point in time. Sell me harder on this idea of climbing up for days...without showering. I like the majority of your itinerary though.
Closing Thoughts
Stay tuned for Jennie's round the world itinerary. In the meantime, how would you plan your round the world trip? Let us know in the comments below!